In aged care the end goal is always the same; to provide the best care to residents, to make them feel safe, comfortable, and ultimately, at home in their environment. And of course, to protect, preserve and improve (where possible) their physical and emotional wellbeing. However, this requires enough time and resource to do properly and to a high standard.
For aged care homes daily paperwork and documentation is necessary, of course, but ultimately it takes away time from carers that could be better spent elsewhere. This is where aged care software helps, built to take away the administrative burden, streamline processes, prevent the need for repetitive tasks and increase efficiency, which frees up time for carers to focus on the most important job of all: the residents in your care, and quality one-to-one time.
This ultimate guide will share everything you need to know about aged care software and how it can benefit your aged care home.
What is Aged Care Software?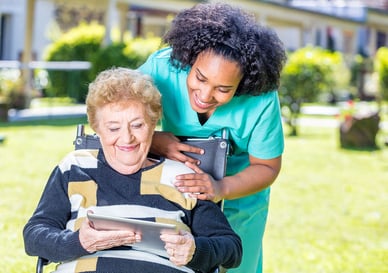 Aged care software is used by teams across the residential aged care sector to facilitate the smooth, efficient daily running of care homes. It allows all aspects of a resident's care to be electronically documented, evidencing care at the point of delivery, which in turn enables real-time monitoring of care provision. Quite simply, it saves your team time, reduces their stress, and gives them the opportunity to provide a better quality of one-to-one care.
Why Aged Care Software should be important to you
We live in a digital world where the use of paper is minimalised. In aged care homes, paper is often used for reporting however it can cause more work for the care team as more time is spent writing up notes across multiple charts and sheets (an often mundane and repetitive task) and comparing paper records – or trying to decipher that ineligible piece of handwriting!
Residential aged care software takes away large administrative burden, saving your team time. Instead of writing up pages of notes across multiple resident records, carers can quickly update notes at the time of delivering the care to those they support. This minimises mistakes and gives carers or relatives access to the care that's being delivered and allows more time to deliver care, resulting in better quality control, less stress on your team and improved teamwork. Streamlining day-to-day management of the care home no longer is a chore and carers gain invaluable data instantly, whenever required.
Understanding how Aged Care Software can help your care home
There are myriad ways in which aged care software can benefit your Residential Aged Care Home. It allows for complete transparency and provides in-depth insights into the care you are providing, increasing opportunities for regular reviews and continuous improvement of care delivery. It also gives greater access and insights into every one of the residents in your care, with data presented in easy-to-understand charts. This makes it possible to spot inconsistencies or alert you to changes in a resident's well-being more quickly than it would be when comparing data across multiple paper records.
7 reasons you need to use Aged Care Software in your facility
Here are the top benefits and key features of aged care software to help your team deliver outstanding care to residents.
1. Care evidenced at point of delivery
Gone are the days of writing up notes at the end of a shift. Aged care software allows carers to evidence the care given as it's delivered. Important insights and observations don't get missed or forgotten about, leading to increased and more accurate data capture, creating more comprehensive reporting.
2. Data collected and monitored in real-time
Care teams input the data once, and the system automatically updates everywhere else. This allows residents to be monitored constantly by the whole care team through accurate, real-time records and provides greater visibility and transparency of the care being delivered. This can be a genuine source of comfort to relatives, who can easily stay up to date with their loved ones' care.
3. Data-driven decision making
You can be confident that the data you access is the most up-to-date record for your resident, even in the middle of the night. The use of real-time data allows you to make informed, responsive decisions based on the current needs of those you support and quickly change care plans where necessary to meet your residents' needs.
4. Benchmarking analysis
Using digital documentation in multi-site organisations gives you a greater understanding of the standard of care being delivered across all sites in a way that paper records simply can't. With aged care software you can analyse trends and measure business critical KPIs comparatively across multiple sites in real-time with group reporting functionality.
5. Online claiming
Aged care software provides real-time submission to Medicare, making online claims a simple, quick and seamless process.
6. Real-time monitoring of care
Paper records are only useful in the moment for those with immediate access to them – in other words, those working in the care home. Aged care software can be accessed remotely and securely by all teams needing sight of a resident's records, including hospital teams, GPs, and other healthcare professionals.
7. Customisation options available
No two care homes are the same, and we recognise that at Person Centred Software. Our aged care software is fully customisable to cater for the individual needs of an organisation and ensure the software supports your team in providing the best care possible to your residents.
Making the jump to a paperless aged care solution
Moving from paper to aged care software removes a huge administrative burden from your carers as daily records are easily evidenced at the point of care, allowing them more time with residents and less time writing up notes. This move to digital documentation can save carers the equivalent of 3 days per month in time that would previously have been spent completing paperwork. But the benefits don't stop there.
Take a look at our guide on 9 reasons to go paperless and move to a digital technology documentation system and learn more about the benefits of going digital in our blog.